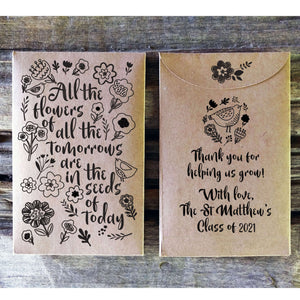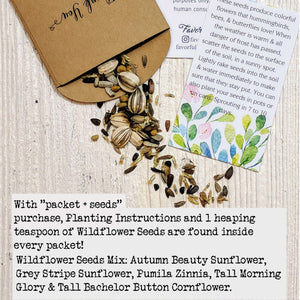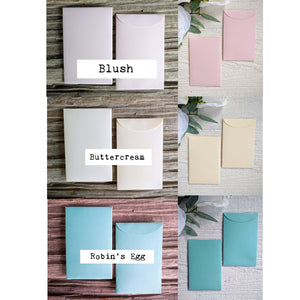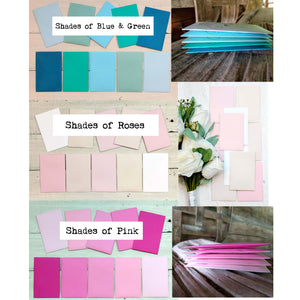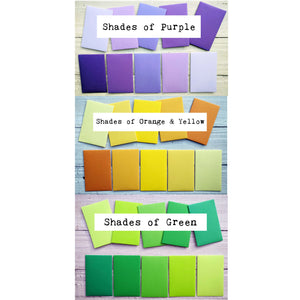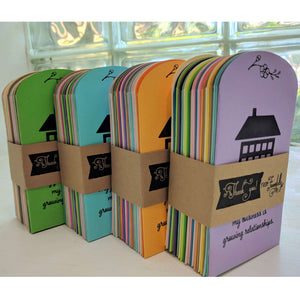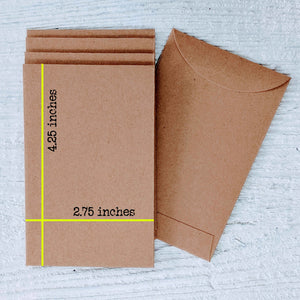 Teachers plant the seed of knowledge - what a unique way to show appreciation by gifting a custom seed packet.  The message is simple but inspiring, "All the flowers of all the tomorrows are in the seeds of today."  The perfect gift for your child to give to teachers or the School District, Principal, or PTO/PTA to give to their teaching staff. 

Seed Packet Thank You Gift:
Customize

 

and

 

personalize

 

to your wishes.

 

Examples of wording are shown in the pictures or you can use your own.
  ✔ PURCHASING WITH SEEDS? 1 heaping teaspoon of Wildflower seeds and a card with planting instructions are included inside each seed packet envelope. The packets will be fully sealed and ready for gifting. For more information about the seeds, please visit my blog at https://favorfully.com/blogs/news.
 ✔ PROVIDING YOUR OWN SEEDS? The seed packet envelopes can easily be sealed with double-sided tape or dab a bit of quick-drying glue.
Substantial in quality paper and size.

 

Each envelope is designed in black ink font, measures approximately 2.75" by 4.25", and is made with 65 lb acid and lignin-free cardstock.
Available in solid colors

 

(brown, white, buttercream, blush, and robin's egg)

 

and "Shades of" colors

 

(pink, blue/green, roses, purple, orange/yellow, and green). With the "Shades of" option, you will receive a variety of shades to achieve an ombré look. See listing pictures for reference, but be aware that colors can look different from monitor to monitor.
Customer Reviews
arrived very quickly
These seeds are great! We ordered 250 packets with seeds and they arrived very quickly and just as described. Thank you!
so perfect!
so perfect! excited to give to our teaching staff.